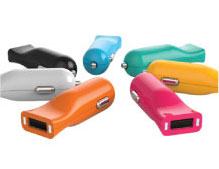 When companies are deciding which promotional products they want; they take factors such as quality, aesthetics, functionality and price into account. While all of these are very important aspects, there is one more aspect that many people forget to take into account- the method of distribution of these promotional products. There are different categories of promotional products to chose from.
We at Brand Republic feel that this is something which should be taken into consideration and have created some categories of products, based on how they are going to be distributed. Hopefully, this small guide should help you make a more well-informed choice in this respect.
Counter Tops
It's common for promotional products to be placed on top of counters; typically, this distribution method is highly dependent on user honesty as these items could be self-service ones. They may be entirely free or there could be very small amount that customers have to pay to purchase them. For example organisers of charity events place things like badges and pens at their venue.
When you are considering purchasing promotional products for events like these, it's best to opt for low cost items. It's also a good idea to choose colourful and attractive, pocket-sized products. These are far easier to distribute; and when you are selling a cheaper, portable product, it automatically makes the purchase decision easier for the visitors.
Staff gifts
In these types of promotional products, it's vital that you prioritise the quality aspect. These are very different from fundraising merchandise; the products you choose for your employees should be high-quality and functional. Spend some time thinking about which products your staff members will use more frequently. With this in view, you can consider ordering customised office stationery and related products such as staple removers, notepads, mouse pads, clips etc. You can also consider products such as umbrellas, satchels, backpacks etc.
Tradeshow Handouts
Conferences and tradeshows see a lot of activity and every company tries their level best to attract more traffic to their stand. It can be quite challenging to stand out from the crowd in this kind of setting; however, it's not impossible. You would have to make some extra effort to choose attractive products that are also printed in vivid colours. Look for uniquely-shaped, vibrant coloured promotional products or something funky.
Corporate Gifts
This is one more category promotional products that have to be chosen with care. In some instances, your staff members may be handing these out to customers that have just signed a contract with you. At times, you may post out a gift to an existing customer that hasn't done business with you for a while now. Regardless of the intent, it's vital to give products that are perceived to be high in quality.
You can know more about our products and services at Brand Republic by getting in touch with us today! You can call us on 03 9646 7066 or email us at info@brandrepublic.com.au. Contact us through this form and we'll get right back to you.