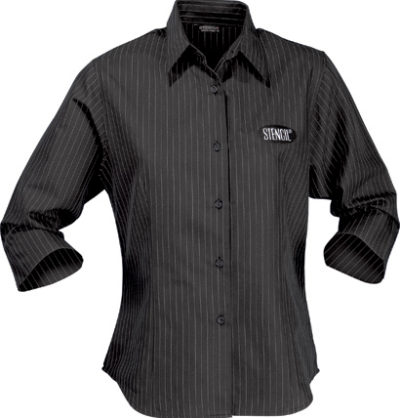 For the latest in workwear fashion, you can't go past the range at Brand Republic, and one of the most popular in promotional workwear is the Pinpoint Shirt. Available for both men and women, these shirts are stylish and professional, while being comfortable and easy to wear. If you are looking for a great corporate shirt then look no further.
The Pinpoint Corporate Shirt
The Pinpoint Shirt is made from 70% cotton and 30% Cool Dry fabric. This ensures these shirts are comfortable to wear all year long. With a 50+ UPF rating, they are a great choice whether your staff are working in the office, or ducking in and out of sales or business meetings.
These shirts are easy fit, breathable, quick drying and moisture wicking.  The men's shirt featuring a pocket on the left breast. So whether your office is in tropical Queensland, or the cooler climates of Tasmania, your staff will be comfortable year-round.
Available in a range of sizes from small to 5XL for the men's shirts and 8 – 22 in the women's shirts, and in a range of colours including black, white, red and blue. You'll certainly have no trouble finding your next branded workwear option.
Professional workwear can certainly help your brand stand out, and for those in the customer service or product service field.  Your customers will be more comfortable dealing with a presentable and professional looking staff member.
Here at Brand Republic we know that finding comfortable and stylish promotional workwear that your staff are happy to wear is difficult, however the Pinpoint range has a classic style and will look professional no matter which industry your business is in. We are a premium supplier of corporate apparel including corporate shirts.
Great Corporate Shirt