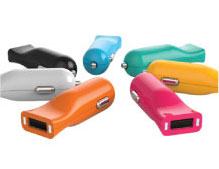 It's natural to be sceptical about promotional products because we living in a world where marketing techniques have become very sophisticated and complex. Many business owners believe that their money is better invested elsewhere and choose not to purchase promotional merchandise. At the Brand Republic, we believe that promotional items are still relevant and have much marketing potential. Here are some answers to the question how does promotional merchandise work for your business.
1. They Have Utility and Longevity
Most promotional items are very useful and durable. For example, a coffee mug or a water bottle will be used daily but can easily last for a long time. Surveys conducted on the matter indicate that customers do retain possession of promotional products for a very long time and will continue to use them until they find a replacement or the promotional merchandise is damaged. Very few marketing strategies offer the same level of longevity and utility, which is why promotional products are still quite popular.
2. They Help You Form a Solid Connection With a Potential Customer
Promotional merchandise will help you establish a connection with your prospective customer because when they receive a gift from you, they're pleased and become biased in your favour. This only works to a certain extent and the prospective customer won't go out of their way to support your brand. However, if they have to make a choice between you and a competitor and they feel your quality and prices are at par, they'll be more likely to choose you simply because you established a connection with them.
3. They can Be Personalised
People love receiving personalised gifts, especially from brands that they've supported and recommended in the past. Promotional merchandise, unlike other gifts, can be personalised so you can thank them directly for their support and appreciation. This will also help you establish a good connection with your existing customers and show them that you still value them. With very little expense, you can have a great impact, especially if your customers aren't expecting it.
4. They Can Help Improve Your Reputation
According to a survey, around 71% of the promotional merchandise recipients remembered the names of the companies that give them the gifts. It's not easy to have such an impact on the customer with traditional marketing methods. Because of the high level of competitiveness, customers are more likely to forget brand names than remember them. Promotional merchandise is a great way to improve or establish your reputation and leave an impression on prospective customers.
As you can see, promotional merchandise can be worth every cent you spend on them. You should make it a point to choose a good quality and useful product. Poor quality products will have a negative impact on the customer.
You can know more about our products and services at the Brand Republic by getting in touch with us today! You can call us on 03 9646 7066 or email us at info@brandrepublic.com.au. Contact us through this form and we'll get right back to you.
How Does Promotional Merchandise Work