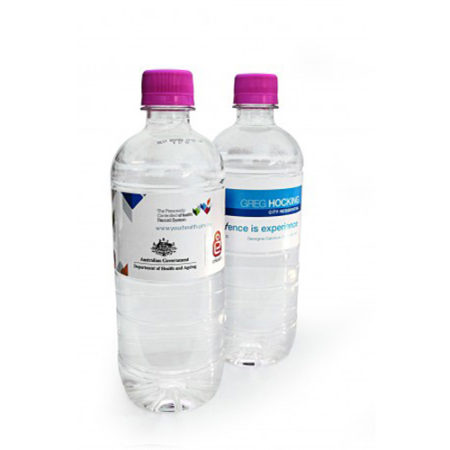 Are you planning an outdoor event or a conference? Looking for a great promotional item that will help market your brand? Choose branded bottle water to help make a statement at your next event. Branded bottled water will help ensure your conference or event attendees are comfortable throughout several hours of speeches, presentations or attractions. This is the perfect opportunity to promote your brand to a captive audience. Brand republic have four options when it comes to bottled water, all of which are filled with clean spring water, with branding printed on labels ensuring a vivid logo and marketing message.
Cool off with Branded Bottled Water
The 600ml Natural Spring Water with Pink Cap is a great way to catch the eye and attention to your brand. These bottles are perfect for community events, music festivals, school events, conferences and more. With a great wrap around label using a four colour print process, your brand will look great on this bottle. Natural Spring Water bottle has all the same features as the option with the pink cap, with a wrap around label providing plenty of marketing opportunities. Both products are available in lots of 24 bottles. The 350ml Natural Spring Water option is a great choice to place into gift bags for conferences and trade events. Available in multiples of 24 units, these bottles feature a wrap around label using a four colour print process giving you an option to promote your brand easily. It is great for children's events and sporting carnivals.
Available in lots of 36 units, there's plenty of space for a great logo print or to promote your latest product.
All the branded bottled water options from Brand Republic can be placed into event gift bags, given away to attendees or sold to help raise money for schools, community groups and sporting associations.
Get your event off to a great start and help you staff stay comfortable and cool with promotional bottled water.